The Clearing the Path (CTP) initiative has been managed by SARM since 2007. The Clearing the Path corridor system was developed to improve the economic development in rural communities by providing primary weight access to a network of corridors.
Clearing the Path
Starting in the 2020-21 fiscal year, the Clearing the Path (CTP) Program transitioned to a tiered system for incremental maintenance rates.
CTP Corridors with a Weighted Truck Count (WTC) of 36 trucks per day or greater shall receive a contribution of $1,200 per kilometre and corridors with a WTC of 35 trucks per day or less will receive a contribution of $1,000 per kilometre.
Further information regarding the CTP program can be found in Section 2 of the RIRG Policy Manual.
CTP Application
CTP – Corridor Grant Incremental Funding Application
CTP Statutory Declaration
CTP Statutory Declarations shall be completed in the online form.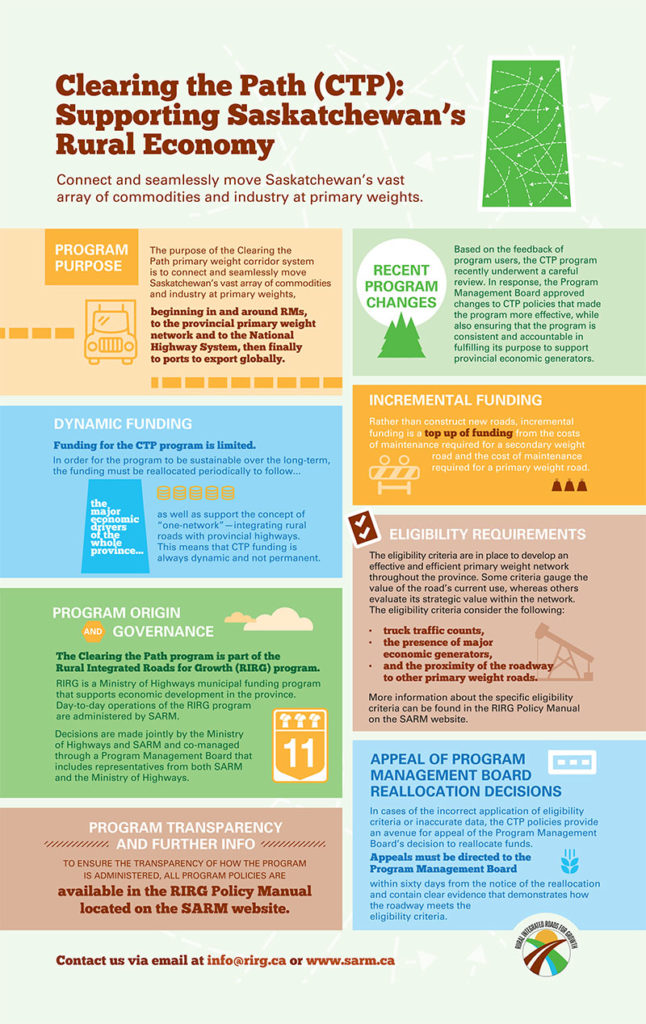 Feedback
To provide feedback on this program, please send an email to feedback@rirg.ca.
Contact